This is another series for the New Blogger Initiative. Find more posts by following the mmonbi hashtag or visiting the forums.
Now that you've come up with a name for your blog and what it's going to be about, the next steps to getting started can be a little daunting. You've got your hosting plans all figured out, you have your domain name, and you're ready to go, right? Your blog is just sitting there and waiting.
Hold on there, skipper!
Before you go pounding out posts to your heart's content, there's several things you'll want to check off first before going live.
RSS Feed and email subscription
Not everyone is going to visit your blog. Maybe they're behind firewalls at work or school. RSS allows people to subscribe using their feed reader of choice and the alternative is to get posts emailed.
Get Feedburner and set it up: Gives you additional flexibility and control over how your feed is displayed plus it enables email subscription to your content.
Show full text instead of a summary: You can configure your feed to show partial content or full content of your posts. Showing full text is strongly recommended. Let your readers absorb your content however they want. Don't force them to navigate to your site to do so. You can change this in the Reading section under Settings in the backend.
Edit your Permalinks
By default, links to your posts will look something like this: blogname.com/?p=123
Change that to something which includes your post name. Whether or not you wish to include the date and post name is up to you. I recommend keeping it to just the post name. I have noticed that when I stumble across blog posts that are dated years ago, I unconsciously skip over them because I feel as if though the information is dated when it may still very well be relevant.
Don't wait too long to do this. Once search engines finish doing their thing with your site and you change the structure later, it takes time to get the authority and links back the way they were before. I changed my link structure recently and had to go through 4+ years worth of posts and establish redirects.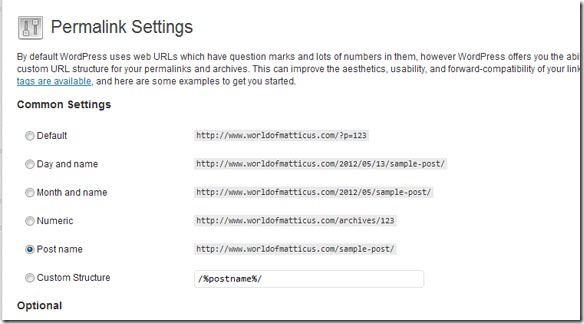 Comments
In your Discussion section of the settings, you get to control how strict or relaxed your comments get to be. Here's what I recommend:
Uncheck user registration: Most people aren't going to bother with the time to register just to leave you some feedback.
Allow link notifications from other blogs: Trackbacks are great because you can see who links to you.
Uncheck administrators must always approve the comment: Most of you aren't going to get trolls within the first few months of your blog. When you inevitably do get your first troll, pat yourself on the back for reaching a milestone. This is more of a quality of life thing since I'm sure you have better things to do then checking "Approve" over and over (Things like writing posts)! However, this is a personal preference.
Important pages
Make it easy for your readers to find stuff when they hit up your blog. There are standard pages that allow them to quickly get to what they're looking for.
About page: Your readers will want to know a little more about you and what your blog is about. For starters, include your name and what your blog is about. There's other questions you can consider answering on your about page.
Archive page: There's a number of archive plugins you can use to display the work that you have created. These tend to sort by date, by category, or both.
Contact page: Your readers may have questions or comments they want to send your way that are too lengthy for commenting purposes. On the contact page, consider including some web forms along with other ways they can get in touch (Twitter, instant messaging, G+, etc).
Establish backups
Hands down, backing up your information is the most important item, period. Your provider may experience that 0.01% chance where their systems get wiped or suffer from a viral attack. Maybe you decide you want to change servers and hosting providers. Whatever the reason, you'll want that peace of mind knowing your thoughts, opinions, and experiences remain backed up somewhere.
WP-DB Backup: The WordPress backup plugin only saves your database. You can configure it to save the file to your web server. You can download it. You can email it directly to yourself. Most importantly, you can schedule backup processes regularly. Most people starting out can get by with monthly backups, but depending on how often you write, consider upping the frequency to weekly (or even daily).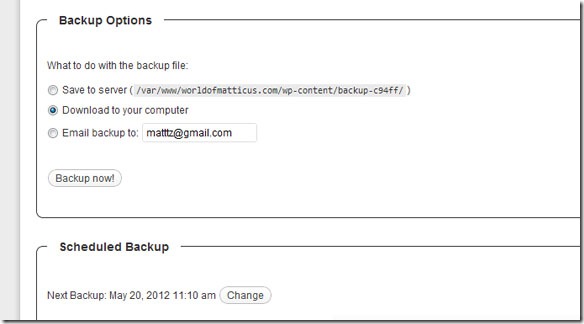 Visual Looks
While the default WordPress themes are okay, chances are you're going to want to customize your look to something that's tailored to you. Most themes allow you to change the header. There's some great places to look up free WordPress themes from.
I know about decision paralysis, so I helped you out by picking out my four favourites.
Delicate (Demo | Download) – Minimalist theme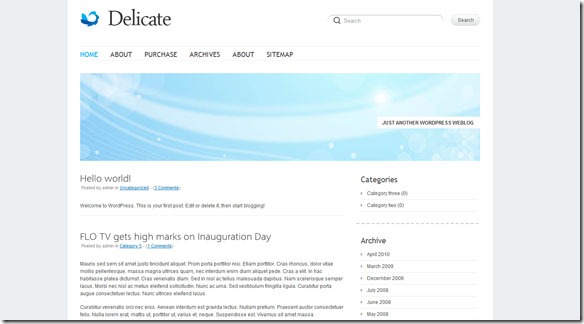 Spectacular (Demo | Download) – Advanced, comes with a featured post, lets you layout your posts on a front page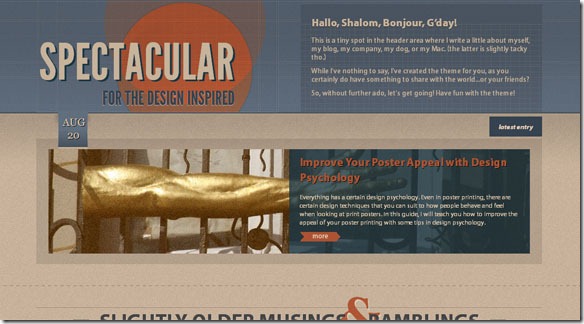 Nublu (Demo | Download) – Comes with a slider, ad blocks on the side, and a clean looking front page. Magazine style blog.

Sight (Demo | Download) – For the power blogger. Nice, giant slider. Condensed entries which expand to full length posts. Social media panels on the right side.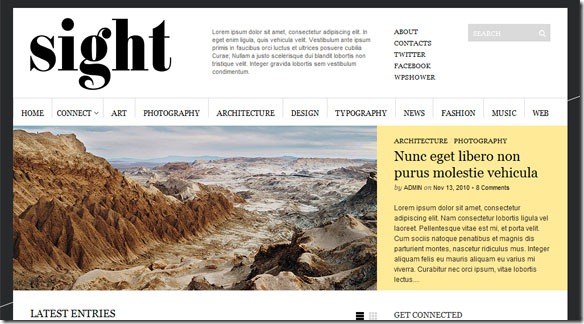 Analytics
You use DPS meters and logs to track the progression of your own performance. Google Analytics is the same idea. Use it to track the progression of your blog to keep an eye on your visitors and how they're getting to you. Set up your Google Analytics account first. After that, you'll be given a code to add to your site. If you don't feel like adding it to your themes manually, there's a few plugins that can do it for you.
Start writing
The first thing I do when starting a new blog is pre-writing anywhere between 5-10 posts. Why? First, it's a personal commitment to myself that I will get started and have content up there ready for day one. Second, new readers can look around and see posts other than an introduction post and they'll be more likely to stick around or subscribe. Third, it's a test for yourself to determine the viability of your blog. If you can't come up with 10 post ideas right off the bat, then maybe that blog topic isn't suitable for you.
Need some post ideas?
Introduction post about your blog and yourself
10 Tips for the new ________
How to ________
Favourite ________ experience of all time
Reasons why you should play ________
I can do this all day. If you're ever stuck on an idea or are afraid that it's already been done and no one's going to read yours, come see me and let me help.
One more thing.
I know how daunting it can be to start your own blog. There are thousands of questions, problems, fears, and so on that must be racing through your mind. To that end, I will answer whatever questions you may have and help allay any fears that you possess. We can do it over Skype, Mumble, Vent, or something (if not, there's always email).
Now if you've just started blogging, go ahead and leave me a comment or a tweet with your URL. I'm always on the hunt for new blogs.