Bullsh*t.
Horrible.
Complete clusterf*ck.
Those are some of the words on Twitter used to describe the ticket purchasing process this year for BlizzCon 2014.
First of all, congratulations to everyone that managed to secure and score tickets for this year's BlizzCon! I managed to get some for myself and Conquest will be returning in full force again with some new faces (and old).
What exactly was different about this year versus previous years?
The Old System
Historically, Blizzard has done a fairly good job managing ticket purchases. You had to keep refreshing the page, select your order, and you'd get thrown into a queue. There would be an indicator that showed you what place in line you were. If you were 1356th in line and there were 10000 tickets available, you knew you were locked in for a ticket. Once the indicator reached zero, that meant all the tickets were spoken for and had been sold. There were no more left in the system.
The New System
This year, Blizzard opted for something different. They decided to use Eventbrite instead. A few of my guildies had used Eventbrite before and mentioned that the system itself had crashed during smaller events and concerts (with a capacity of 2000 seats). BlizzCon hitting the 20000 ticket mark made me wonder if Eventbrite could even handle the expected load.
My guild has done this annually now. We had a thread set up to coordinate who was able to buy tickets, what their maximum purchasing capability was, and who needed tickets. We were all on Mumble when the tickets went live and I hit refresh, selected four, and was thrown into their waiting room. Some of my guildies were faster on the draw than I was and managed to proceed right to the checkout page. I had given up hope. I figured if I was in the waiting room, there was no way I'd be able to get tickets. But I had no visual indicator as to how many tickets were remaining so I stayed on there.
Minutes later, I was thrown out of the queue and informed that the event had sold out and that there were no more tickets available.
Ugh.
My first year of not getting my own BlizzCon ticket. There goes my streak.
Or so I thought.
Resigned and frustrated, I kept slamming my F5 key just because. Then I noticed my page had changed. The sold out notice was gone. Tickets were available again. Perplexed, I decided to go for it. Changed my ticket quantity to 3. Was told that it wasn't available, but I could buy them in singles. Said screw it, selected 1 ticket and was thrown into the checkout page again. By this point, all but 4 people in guild had tickets that were spoken for. 3 of us managed to check out in time and get order confirmations on our tickets.
The last guy was still stuck and wasn't able to get his either as it had thrown him another sold out error.
On a hunch, he was smart enough and decided to wait a few more minutes before trying again. Sure enough, 24 minutes after the first wave of tickets had been released, he managed to purchase a single ticket for himself. Everyone who had signed on and committed to a ticket managed to get one.
Weird right? What the heck happened?
Based on what I saw and my conversations with others, tickets were held on the checkout page by people purchasing them. If people did not finalize their purchase or if their check out process timed out after 8 minutes, those tickets would then be released back available for purchase.
However, the rest of us in line had been thrown out and we would not have known about it. Why would it tell us that tickets are sold out if they weren't actually sold out?
I felt that was absolute ludicrosity. Way preferred the old system. At least I knew for sure that I had a chance. And at least I knew that once the supply bar was empty, it was literally empty. I understand that the system this year had the unintentional side effect where people could show up late and purchase a ticket 20 minutes later. Neat in a way, but not exactly fair for the people who started the F5 refresh spam on the dot.
How can this be solved?
Easy. Put in something that the previous BlizzCon pages had: A bar that shows how many tickets are remaining. Calculate it based on actual tickets confirmed and sold. I think that'd go a long way towards placating many interested players.
Oh and don't actually throw people out of the queue.
Why They Switched
Good question. Why did Blizzard switch?
One reason why we're using Eventbrite is because there is a quick and easy system to help us monitor purchases and be able to take tickets back from scalpers/bots.
BlizzCon is notorious for having a huge number of people trying to sell and scalp tickets. Listings appeared on Ebay weeks before the actual BlizzCon ticket sale. I'm not sure about the countermeasures or the success rate of trying to stop and minimize the effect of scalpers, but I loaded up Ebay and decided to search it up: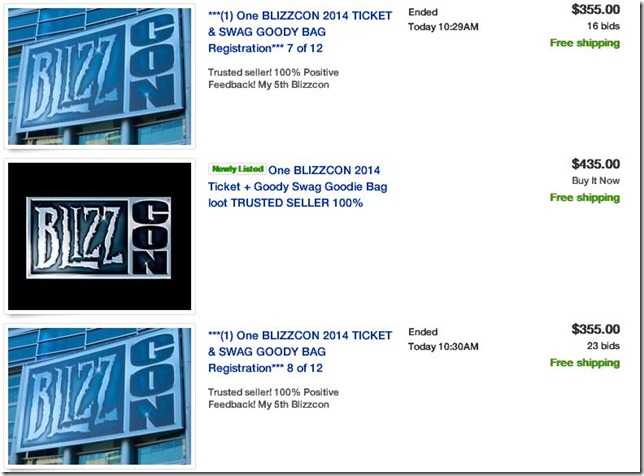 Maybe it'll get shut down? Who knows?