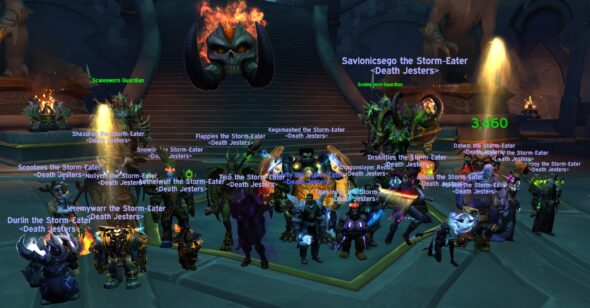 It's official! Death Jesters is now 8/8 Mythic and we've achieved our first Cutting Edge since Ny'alotha. It feels great to be back on top again. The final series of nerfs was enough to push through that finish line.
Here's the notebook for the week.
The final pull count is 188: Depending on who you ask, it actually was 208. Apparently, the 20 or so pulls we had while the GM happened to be away that one night didn't count, so we're going by his as the official.
Phase 3 clinch: Victory was just about assured the moment we entered phase 3 with everyone alive. I didn't think it was that close. We only had 3 total looks into the third phase before Rasz fell on that final attempt.
Pre-pull briefing: Before raid started, we all watched a short 5 minute video together that outlined how to approach the second intermission. The different groups were laid out and their priority targets were assigned. There are three big storm elementals in this phase and we couldn't let three small groups of storm ads reach any of the big ads (lest they heal them). Every stun and snare had to be planned and the movements had to be choreographed. I would say this saved about 20 pulls and I hope this is a practice that continues more in future tiers. Sometimes there are questions you don't think about when you're watching a video on your own which might pop up when you're watching together as a group.
Second intermission woes: Lots to unpack in this phase. Everyone had to be precise in their crowd control. It took a lot of coordination from everyone to successfully get through it.
The reclear: Not sure if we're going to be able to get everyone their CE titles (myself included). There's only three or so weeks left in this raid tier. The biggest bottle necks are going to be Dathea and Broodkeeper respectively
The roster: We knew this ahead of time, but our tank was going to retire the moment we defeated Rasz. We have a stop gap measure for now with one of the melee DPS switching to and gearing a tank but who knows if they can get acclimated in that time frame. From a roster position, I've been asked to keep a lookout for a tank, a Death knight (DPS), ranged DPS, and a healer to help provide us with flexibility heading into the summer.
Our raid group was vastly different at the end of Shadowlands compared to what we have now that killed Rasz. Stepping into the expansion, the leadership group decided that CE was going to be the eventual goal. We didn't know how long it would take. In my experience, it would take at least 2 or 3 tiers to go from an AotC roster to make the jump to a CE roster. I didn't think early on that we would be able to get there. It wasn't until we defeated Broodkeeper that I felt we had a chance. Constant recruiting on the forums, in the WoW Discord recruitment servers, and Raider IO paid off as that's where I was able to locate players and have them apply if I felt that matched what we were looking for. We must've gone through something like 30 players over the course of the tier (between trials that were accepted who succeeded and those who did not pass) out of maybe 110 or so applicants.
So what's next?
We're getting some new players who we accepted but haven't had an opportunity to shine yet. They'll participate in the reclear. We'll try to get another Raszageth clear but I'll rest easy even if I'm not able to get it this time around. Any players entertaining the idea of character switches or role changes have to alert the leadership so we can see what our roster looks like and what we can accommodate. Work has begun on planning out a strategy for the next raid bosses, then we'll start sprinting right out of the gate. We finish this tier at US 363. Not bad at all.