Wikipedia states that A vizier […] is a high-ranking political adviser or minister in an Islamic government.[3][4] The word is derived from Middle Persian[5][6] and then adopted into Arabic root. The vizier stood between sovereign and subjects, representing the former in all matters touching the latter.
Well, today I learned. Not exactly the voice of Psy, but he's fun and engaging nonetheless.
Healers looking for pointers can visit this page.
We got trolled. For the longest time, Vizier would always run to the Attenuation platform. We would routinely trigger the boss from the middle and then run to it. We figured he'd go there everytime. Sure enough, the one time we set up at the Attenuation platform, the Vizier runs to the Force and Verve platform instead.
I was never able to take down the Vizier during the beta. Either I ran out of time or the gear or skill just wasn't there for the groups I was in. I knew the Attenuation platform was going to be challenging for players (especially those who use the keyboard to turn instead of to strafe). Pay attention because Attenuation rings can go clockwise or counter clockwise.
Pro tip: Rebind your A and D keys to strafe left and strafe right respectively. It helps with moving through discs. Point your camera so that it's from the top down. Paladins with the Relic of Chi Ji are instructed not to use Light of Dawn.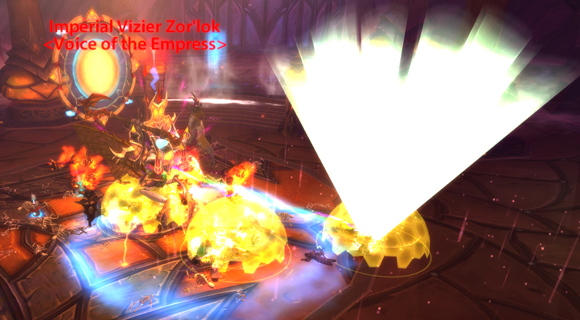 Look how blinding that can be. My guild likes to joke about it and call it the vagina of light.
With all the movement that's going on in the Attenuation phase, I switched up my glyphs and used the Glyph of Shadow Word: Death instead. When I'm dodging discs, there's situations where I'll get lucky with Mind Blast, Mind Spike, and Devouring Plague procs. It's possible to stand in one place and get a 2-tick Mind Flay through before interrupting it. Shadow Word: Death just gives you an extra spell for to to use on the go.
During the Convert platform, pop your Psychic Scream and Halo spells early and on cooldown. People get pissed off at you if you're Mind Controlled and dropping fear bombs all over the place. Halo if used at the wrong time will chunk or even kill players.
On the Force and Verve platform, I'd activate Vampiric Embrace while under the Noise Cancelling shield. We assigned all the ranged players to the bubble furthest away. Healers would take the next closest (or middle) bubble. Melee DPS and the tank would secure the closest bubble to the Vizier. Any bubbles that had more than 9 players would have extras reassigned to the healer bubble.
Heroism was used in the final phase during the first Noise Cancelling bubble. It was used defensively to help the healers keep up with the healing without activating their raid cooldowns.
It's not the greatest fight for a Shadow Priest with the amount of moving that's going on. I'm still struggling with maintaining meaningful uptime. 80.5% on my Vampiric Touch just isn't quite cutting it. The DoTs just keep falling off and I'm not able to refresh them fast enough. I try to reapply them with anywhere from 3-4 seconds left, but I'm not all there. Shadow's fun this expansion (compared to Cataclysm where maintaining 3 different DoTs was a chore).
I'm using Fortexorcist to help track my DoTs but I think I need to find a better place for it. Maybe underneath the target on the top right? Where do you Shadow Priests park their timers? Should I just clip more and throw it up earlier?