Conquest scored their first 10 man raid boss kill a few weeks ago with the Conclave of Wind. It's another Council-type encounter that involves multiple bosses. They don't share health pools or anything. Once a djinn (genie?) goes down, you have a minute to take down the rest of them otherwise the disabled djinn's will have their health restored to 100%. When engaged, the djinn's need to have someone within attacking range otherwise players will get hit with a really strong wipe-inducing debuff.
Otherwise, keep reading for an account of each healer's perspective on their platforms along with a quick breakdown on what actually happens.
Nezir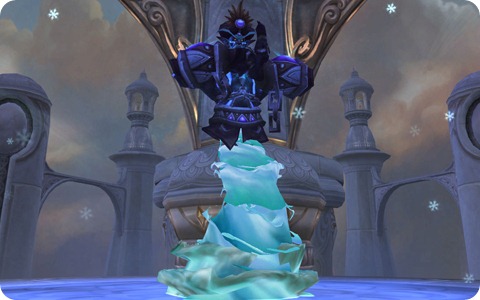 Nezir is the Frost djinn. He places Frost patches on the ground which needs to be avoided as the movement slow effect will stack. His Wind Chill deals Frost damage. His Sleet Storm is a Frost DoT. Be wary of Permafrost as it is a conical Frost spell hitting anyone near the target. Wind Chill is the mechanic that forces platform teams to switch as it steadily increases all Frost damage taken by 10% (in other words, it's a stacking debuff).
His ultimate ability is Sleet Storm. It deals ~30000 damage divided by all targets within 100 yards. Make a note of this effect.
Alette's point of view
My starting platform was Nezir's, which is the frost platform of conclave. The damage that the boss deals scales with how many stacks of Wind Chill that the tank and I had. When 5 stacks of Wind Chill is reached, the healing becomes intense. We originally tried switching platforms at about 8 stacks but shifted it down to 5 instead. As a healer, try to always be behind or to the side of him to avoid taking permafrost damage. His ice patches are a nuisance, but I used Hand of Freedom to remove the slow effect.

Once I reached 3 stacks, I started moving towards the ramp. At stack 5, transition was signalled verbally and the jump was made to Anshal's platform.

Pro tip: Don't forget you can cast instant spells when flying through the air from platform to platform.

Make sure you hit the ramp straight on and not at an angle.
Anshal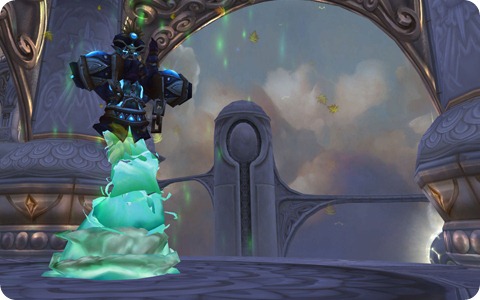 Anshal has an AoE effect which silences any players within it and heals any of his allies. Melee players will have a field day here. Every so often, Ravenous Creepers will appear with the ability to eject Toxic Spores. These Spores will infect players with a stacking toxin. Unfortunately, there's no direct way to remove it. The Toxin hits for about 500 damage and it stacks. When the stacks get too high, a switch is called where the players jump over to Nezir and do a bit of damage to him for a while before jumping back. The key here is all about Ad control. Make sure those ads are dead or as weak as possible. Anshal's ultimate heals all of his allies for 25000 health per second and they deal and extra 15% damage. In the seconds leading up to his Zephyr (his ultimate spell), you'll want to ensure his little friends are down for the count. Once they are, all the DPS players here need to make the jump to Nezir's platform immediately.
Ophelie's point of view
It started like any other fight: Beacon on the tank, Holy Shocking players, and building up Holy Power. Anshal actually doesn't hit that hard and my concentration started to waver… Then adds spawned and it took every bit of Holy Radiance and Light of Dawn and pounding my fist on the keyboard to make sure our DPS survived. The adds had barely stopped moving (and the dps had barely been healed enough) that my tank suddenly jumped onto the wind tunnel on the side. Being a good loyal healer, I jumped after him, leaving the DPS players to their misery.

I found myself in front of Nezir. I avoided frost patches on the ground the best I could. I secretly thanked the existence of Hand of Freedom, which sped up the delicate process that is reaching the frost boss. By then, the DPS had caught up with me, demanding to be healed again. I pulled out Holy Radiance, Light of Dawn and my fist again before adding Aura Mastery + Resistance Aura to the mix in order to do my best in keeping everyone alive as Nezir cast Sleet Storm. After all the excitement, the DPS left to kill more of Anshal's flowers and I hung out with my tank and Nezir, until we noticed that we'd each gathered 4-5 stacks of debuffs, making us take more frost damage. Not wanting to mess with that, we jumped back onto the wind tunnel to hang out with Anshal, the flowers and the dps.

Healing the DPS on Anshal's side was frustrating at times. My AoE heals were able to keep everyone up long enough for me to blast them with some Divine Lights.

It's a coordination fight, notably coordinating damage dealt to the right boss at the right time, but from a healing perspective, it's about communicating with your tank and with the other tank-healer team to coordinate jumping. The DPS doesn't like to be left alone on a platform with no tank and no healer. And occasionally you have to communicate with the team working on Rohash (but they get really edgy late into the fight, so be forewarned).

Get your utility spells right too:

Lay on Hands is a wipe saver if your tank decides to jump while you're mid-cast.
In times where your tank and your DPS are fighting for your affection, Hand of Sacrifice lets you keep the tank alive while paying attention to the DPS.
Bubble can be used to remove frost debuff stacks, but I found it more helpful in avoiding aggressive flowers.
Hand of Protection can rescue a softer DPS from those flowers.
Hand of Freedom can help you (or your tank) navigate the Nazir's frost patches.
Holy Radiance and Light of Dawn are fantastic when you've got the DPS bunched up in front of you. During alone time with the tank, or to quickly save a DPS, use Word of Glory as your holy power sink.
Rohash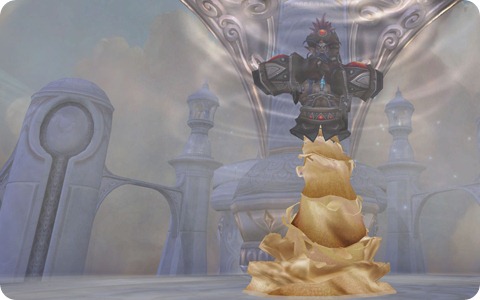 The big threats to watch out for from Rohash is his Wind Blast. If he faces you while casting it, you better move fast (and note that the wind spout turns in a clockwise direction). Veterans of Serpentshrine Cavern will recognize the ability as one based from the Lurker Below. His ultimate spell is called Hurricane where players on the platform are throw around in the air (akin to Malygos' Vortex). The only spells which can be cast are instant ones. Otherwise, a tank is not needed. In fact, it is strongly advised that no melee players engage Rohash at all.
Matt's point of view
Don't let the other two Paladins fool you. We drew straws. I lost. I got arguably easiest djinn in the instance (which I also found fairly boring).

We took two approaches to Rohash. We tried with both a Mage or a Mage and a Warlock. We were able to progress quite nicely with both ranged DPS on this platform. There were times when our Warlock needed to switch to other platforms for diagnostic checks to ensure everything was being done properly or to help level out the damage. For the most part, Rohash was the key. Once he was down to a certain percentage, everything would come together.

Healing the damage by Rohash is a piece of cake. Heal was enough to slow down any damage dealt before relying on either Flash Heal or Greater Heal to get players back up to full again. I'll admit I got caught off guard once or twice by the Wind Blast. The trick to avoiding Wind Blast is to pay careful attention to his bars and the direction he is facing. As a Priest, I was able to Body and Soul my way clear fairly quickly. Don't stand too close to him as he conjures these three mini-cyclones that revolve around him. Their radius is slightly larger than the graphic. Get nailed by one, and you will get knocked back.

During the Hurricane portion, I relied on instant spells to keep myself at a high health pool as much as possible before hitting Levitate so I wouldn't take fall damage. Yes, Circle of Healing if you have to.
How it works
The majority of the DPS will be between Nezir and Anshal (actually, that might be dependant on your raid composition). Melee players will definitely be working on Anshal and jumping platforms to Nezir as necessary to help mitigate Sleet Storm. Once the ultimate abilities have worn off, DPS players are free to resume their original positions. Our game plan was to concentrate on Rohash and Anshal. Incidental damage and DoTs or AoE would be used to gradually lower Nezir.
As soon as we took Rohash down to about 10%, we checked to ensure Anshal was near death. If he was not close, we held off DPS on Rohash. If Anshal was close to death, we lit up Time Warp and dropped both Anshal and Rohash as quick as possible. The moment the Djinn's fell, we hightailed it to the central platform where Nezir was waiting. 1 minute was more than enough time to eliminate Nezir with concentrated fire.
We just completely blew them out of the sky.