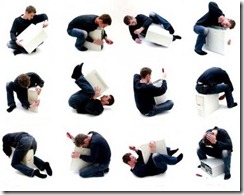 The other day it occurred to me that as a leader, we are judged twice: Once by how we handle success, and once by how we handle problems.
So by now you've determined that one of your officers needs to step up their game and contribute more to your rampantly successful organization. Presuming you still feel they can be a valuable part of your leadership team, this leaves you with two standard options:
Ignore it and hope the situation fixes itself
Violently strike, shake or punch them
Coach them to success
Method 1: Ignore it
Let me know how this works.
Actually, I'd bet that a fair amount of people are reading this because they've already tried this method and realized it never changes.
Method 2: Violence
"We have not yet developed the technology to punch someone over a standard TCP/IP connection."

– Lodur
So unless you're a Jedi and can Force Choke someone, this method is sort of a wash, too.
Method 3: Coaching/Wake-Up Call
Part of leadership is motivation, and that doesn't start and stop with your members. Your officers need back-up, direction, vision and support on a regular basis. The only thing that changes is your tactics and means of implementation.
Of course, how this situation came to be and what path you choose from here is largely based on your leadership style. What follows below likely fits best within an organized style of leadership. If you run a more chaotic/organic guild, some of this could seem foreign.
As with any relationship, the GM/Officer paradigm requires give and take. You both need to know what is expected of each other, so there are no assumptions later on. It really helps to lay these things out, and to write them down. Do not presume you will remember all the details later, because you won't.
Re-Defining their Responsibilities
Their domain: Are they in charge of all melee, or just tanks? Do they coach healers outside of the raid, or is that done by the Morale Officer? In your head, who should be going to them before coming to you?
Expectations: What goals have you set for their area of responsibility? Just "play well" isn't really a goal. Zero missed interrupts, DPS that ranks on WoL every night, better cooldown coordination between healers. These are examples of things they can work on. Remember, people derive comfort from achieving goals.
Extra Duties: Are they expected to pitch-in on recruiting? Are they expected to be the sole recruiter for their area? Do they need to make sure they set aside time to assess your back-ups? Do they need to contribute to strat development before raid?
Rules are there for a reason: Whether it's your rule or a rule they made up, we are judged by how and when we implement our rules. If an officer feels like a particular rule (such as talking to players before cutting them, or organising who sits out on which fight, or ensuring loot is distributed correctly) then the situation needs to be examined.
Assistance: Tell them what you can do to help them, and when you want/expect to be asked for help.
Clarity: Be clear about when and how often you want to update each other. Some guilds can do this quickly each night, some prefer a weekly officer meeting. Develop a routine.
Desire: Ask them if these are all things they want to do. Perhaps they are good at some things and not yet ready for others. If falls to you to decide what they should be handling and when you should be giving them more to do.
Hand-in-Hand with all that, comes your fair share of the culpability. After-all, it's your guild, and, even though a lot of GM tasks are intangible, everyone needs to know what you're doing so they can follow with confidence.
Defining the GM's Responsibility
Tell them what you do for them
Tell them what additional things you will do for them now
Be clear with what you expect to be a GM-level issue, and what you think is best handled by them
Be very clear that your job is to ask questions, and this is just something you will need to do. Nobody should be offended when you make your inquiries. Afterall, "not checking is not managing".
Hopefully these tips will give you some good ideas when you find yourself having to coach one of your officers.
Next week: How Cataclysm has changed Guild Structures
As always, please leave your questions/comments/feedback/marriage proposals below. I love to read them on these rainy spring days while curl up in my official Matticus Snuggie*.
Note: No such product exists.